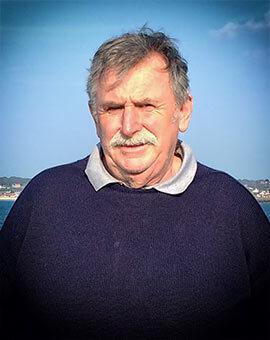 Locally born accredited Silver guide licensed taxi driver and guide.
My Honda Accord Executive is a comfortable 4 seater with sunroof. I will take you to beautiful places where Renoir and Victor Hugo spent time. We can stop at these and take photos, or have a coffee or something to eat.

I will take you to sleepy little secluded harbours where I fished for lobster, chancre and spider crabs.

We will go down narrow lanes that only cars, cyclists, pedestrians and horse can use, and may see the iconic Guernsey cows, which my grandfather farmed during the occupation.

The island is full of history, from 1204 with castles and Napoleonic Martello towers built to protect the island in the 500 year war with the french, to some of the 1,000 German fortifications built in the four and half years of occupation my family had to endure in both islands. The Channels were said to be the most fortified place in the world.

I can do tours of 2 to 5 hours and can give a price accordingly and can take you through the history and being in local government for over 25 years can talk about this as well. I can take you places of interest iconic Little Chapel, occupation museum and others on the tour.

Also offer
Bespoke tours
About Farming and growing.
Guernsey Potato Peel Society including My mums experiences.
Bus tour up to 22 persons.
Contacts & Social Media